SUMMERFIELD HISTORY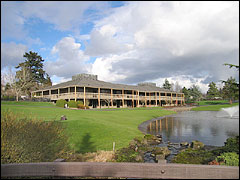 Summerfield was built on 203 acres of gently rolling treed land, including small farms and dairies. Located in Washington County, Summerfield was incorporated into the city of Tigard as a planned residential community for adults 55 years of age and older. Summerfield is governed by the SCA, (Summerfield Civic Association) Board of Directors and has a paid administrator.

In 1973, the first model homes were built on Century Oak Drive. There was a grand opening and much interest was shown in. this new adult community, with all utilities underground. Building and sales were brisk.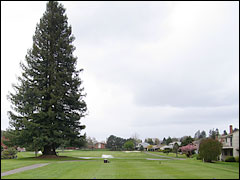 The 9-hole executive golf course proved a major attraction for golfers as well as the beautiful open space it provided for others. In 1948 the Bunney family, one of the original landowners, planted the stately redwood tree on what is now the 5th tee of the golf course. The golf course is open to the public when not reserved for member use.
Construction on the 25,000 square foot clubhouse began in 1974. An active SCA helped support new residents in planning the future of their community. Potlucks were planned every few months to acquaint new homeowners with one another. Various interest groups began forming with much energy and enthusiasm, which continues to this today.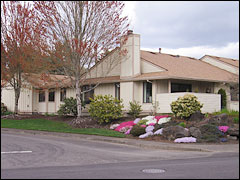 Five kinds of housing were built: single family homes, townhouses and condominiums of which more than 95% are owner occupied; the apartments and the Clubhouse Estates were built as rental units. The Clubhouse Estates provides meals and certain other services for ambulatory guests who choose that lifestyle.
Summerfield is conveniently located near health care and medical facilities. Shopping, banks and service-oriented facilities are close by. There is easy access to major arterial roads and freeways only 80 miles to the northern Oregon beaches, 70 miles to Mt Hood, and just 25 minutes (traffic permitting) to the Portland International Airport.
Tigard is considered the "banana belt" of the Portland metropolitan area. The elevation is about 120 feet above sea level and the average rainfall is 37.4 inches.
The Summerfield Clubhouse offers a wide range of facilities to support the clubs and activities available to you.
The beautifully landscaped golf course can be seen from many of the clubhouse rooms and the surrounding decks. On any given day Summerfield residents can be found heading out to play golf, enjoying a game of cards or billiards, taking an exercise class, or exploring an interest in painting or crafts. You can select a good book or video from our extensive library or take a dip in the inviting outdoor pool.
In addition, we offer, to residents, the use of the Lakeview Room and adjoining ballroom. These rooms are available for parties and other family events. We hope that you will consider the Clubhouse an extension of your home.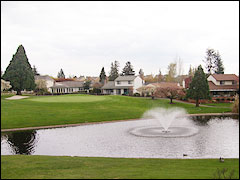 We welcome you to Summerfield and encourage you to participate in and enjoy all that it has to offer!
SUMMERFIELD GOLF COURSE
Summerfield has an outstanding executive style golf course 2300+ yards long carrying a par 33 rating for 9 holes. There are 22 sand traps and 3 lakes on the course, 18 tee boxes and two practice putting greens. U.S.G.A. rules govern all play. In the lower level of the 25,000 sq ft Clubhouse is a fully operational Pro Shop. The course is open to the public when not reserved for member use. Greens fees are set annually by the Summerfield Civic Association Board. There are four fee categories: unlimited golf (available to residents only) of $375/year, $13 per round for residents, $14 per round for guests and $15 per round for nonresidents. We have both a very active Men's and Women's Golf Club.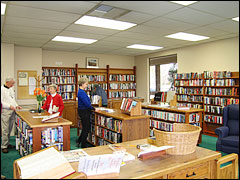 SUMMERFIELD LIBRARY
Our well lit, comfortable library located in the clubhouse is for use by all residents. It is open every day between 5:00 a.m. and 10:00 p.m. The library has no system of check-in or checkout. We use the honor system. Simply make your choice. We only ask that items are returned in a timely manner so others may enjoy.
Included are books – hardback and paperback (fiction, non-fiction, biographies, mysteries, westerns, and romance) as well as large print books, magazines, puzzles, videos, and audio tapes.
The Library Committee consists of eight volunteers who work one week at a time sorting and shelving returned books, etc.
Along with a budget from the Civic Association and the generous donations from residents, we usually have our shelves filled to capacity. The budget is used to expand areas such as large print books and audios, which we have found very useful.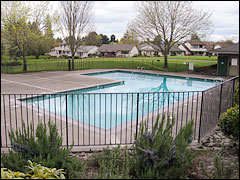 SWIMMING POOL
The pool is located at the West Side of the clubhouse. It is opened in the spring on the Friday before Mother's Day and closed in the fall, usually the second Friday in October, depending on the weather. The pool is heated to approximately 86 degrees and is open to residents at all hours. If you swim very late or very early please be considerate of the close neighbors and be quiet.
The pool is closed for maintenance Tuesday mornings from 7:00 a.m. to 9:00 a.m. Residents on the Pool Committee, our Pool Monitors, volunteer for one week during pool season to check the chemicals and temperature two or three times daily. These Pool Monitors are there to insure your safety and the chemical health of the pool. Please give them your cooperation. If you are interested in joining the Pool Committee and being a volunteer, please join us at one of our meetings. There will be a notice of the meetings in the Summerfield Summary.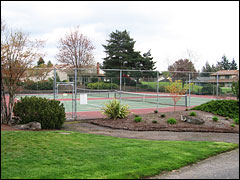 TENNIS COURTS
We have two (2) courts adjacent to the clubhouse. Any Summerfield Civic Association member who enjoys tennis is welcome to play. Women usually play Wednesday and Saturday at 9:00 a.m. beginning in March. Men play every day except Wednesday. Call the representative for more information.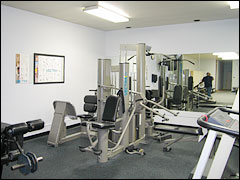 EXERCISE ROOMS
The men and ladies' exercise rooms are in the lower level of the clubhouse and are to the right of the game rooms.
The men's exercise room is equipped with the following:
• Treadmills -2 units
• Upright bicycles -2 units
• Recumbent bicycle
• Health Rider -total body aerobic fitness machine
• Multi-function weight machines -2 units
• Free-weights
• TV -to take the monotony off your exercise session
The women's exercise room has similar equipment to maintain good body conditioning. The equipment has been selected and recommended for use by seniors, but all ladies are encouraged to discuss with their physician the amount and type of exercise recommended for them.
All Summerfield members are welcome to use the exercise equipment Manuals are available on the use of the equipment, and members use the equipment at their own risk. Guests 18 and over are welcome to use the equipment when accompanied by a member.
GAME ROOMS
The game rooms are located in the lower level of the Clubhouse on the West End of the building. They are to the left as you enter that portion of the building.
In the first game room we have four pool tables, of which three are snooker tables and the other a regular pool table. The second room has two Ping-Pong tables and a card-playing table.
All Summerfield members are welcome to use the equipment. Rules for their use are posted on the walls.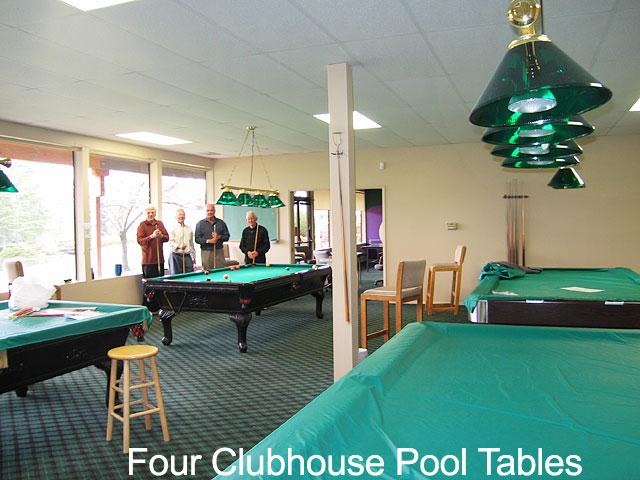 Billiard Room Rules
The following are rules and regulations regarding the billiard room at the clubhouse.
• ONLY SUMMERFIELD MEMBERS AND THEIR GUESTS 18 YEARS AND OVER ARE ALLOWED THE USE OF THE POOL TABLES.
• No time limit is placed on use of the billiard room; however, it is expected that if others were waiting, these facilities would be relinquished within one hour.
• No beverages or food of any kind are allowed in the billiard room.
• Sitting on tables is prohibited.
• When finishing play, please return cues to rack. If no others are waiting to play, brush and cover tables and rack the balls. .
• Turn out the lights and "inspect" the area. before leaving.
Members and guests bear the responsibility of damage to equipment. Make sure outside doors are locked.
ORCHARD VIEW CARD ROOM
Our various card groups, such as Bridge, Canasta, and Pinochle use this large popular room. The tables and chairs are set up at all times and are never removed from the room. Reservations are required for use of this room.
ARTS AND CRAFT ROOM
With large tables, easels, and an overhead mirror, this room is well appointed for all types of art, craft and needlework activities. Reservations are required for the use of this room.
CONFERENCE ROOM
This room with its large meeting table makes it possible for groups of various sizes and purposes to meet. Advanced reservations are required.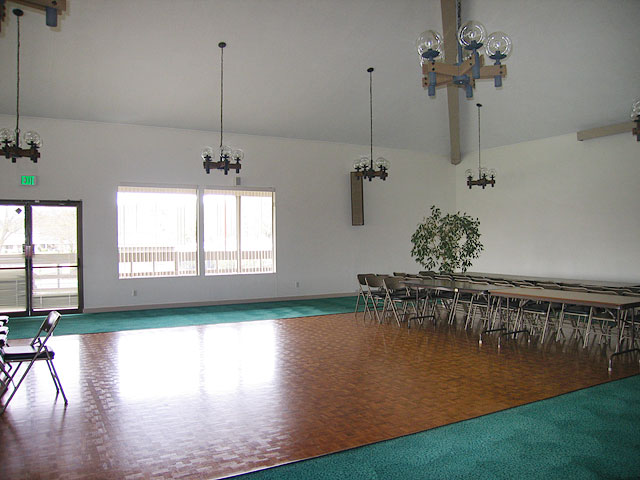 CLUBS ANDACTIVITIES
AEROBICS: This informal group meets on Monday and Wednesday at 9:00 AM for Cardio Fitness and on Fridays at 9:00AM for Yogacise. All are welcome. Participants pay a nominal fee each time to the instructor.
ART CLUB: Art Enthusiasts. Come one come all. We hold meetings three times a year for members and guests on different art topics as well as demonstrations. The December meeting is a social meeting with refreshments. If interest indicates, we may take a field trip to enjoy art related exhibits. An Art Show that is open to the public is a once each year focus on the club.
BOOK CLUB: The Book Club meets on the second Tuesday every month at 2:00 PM. A list of the titles the club is reading is posted in the Summerfield library. Everyone is welcome to join the discussion and no dues are assessed.
CARDS
BRIDGE: Bridge players meet four times each week. The party bridge players meet on Mondays at 1:00 PM, on Wednesdays at1:00 PM, and on Thursdays at 7:00 PM. The duplicate bridge players meet on Thursdays at 1:00PM.
CANASTA: Those interested in Canasta need to join in twos. Each Wednesday from 7:00-9:30 PM the play begins by drawing for partners and then the players alternate partners with each game.
PINOCHLE: Play Pinochle every Monday at.7:00 PM in the card room at the clubhouse. Enjoy fellowship and cards and the anticipation of winning prizes each week.
COMPUTER GROUPS
MACINTOSH USER GROUP: We are a friendly group that learns and shares knowledge with each other. There are no dues or formal programs. If you have a Macintosh computer, join the group which meets the second Wednesday each month from 10:00-11:00 AM.
WlNDOWS COMPUTER GROUP: .Our group focuses on discussion of computer related subjects, new equipment and software. It is not a class, but we try to look at problems and help each other. We gather at the clubhouse on the fourth Tuesday at 10:00.AM.
CRAFT CLUB: We gather in the clubhouse on Tuesdays from 12:30-2:30 PM to work on a variety of crafts. People who knit, do paper crafts, counted cross stitch and other forms of hand work are all welcome. We also sponsor a craft sale at Christmas.
GARDEN CLUB: This active group of gardeners meets the first and third Mondays at 1:00 PM. Meetings are filled with helpful information, speakers, and demonstrations.
This group also tours local gardens. Whether you have a pot on your porch or a landscaped yard, all are welcome.
GOLF: MEN'S Membership is open to all male residents; Play days are weekly on Wednesdays and Fridays as well as various tournaments throughout the year. Our primary goal and purpose is to promote fellowship and enjoyment golfing activities for its members. If you enjoy socializing and golf together, a more relaxed Chapman event is scheduled for couples or singles with partners. Play is scheduled for the first Monday of each month from May to October-Golf in the daytime with a social hour and dinner in the evening. Annual dues are collected which include the right to play in all sponsored vents, an annual dinner and include current OGA membership fees.
GOLF: WOMEN'S Members play days are weekly on Tuesdays and Thursdays. The active, 150 plus ladies are not all super golfers. We welcome all women who would like to play and enjoy exercise, fresh air, and a chance to meet congenial people within a friendly atmosphere. Our new members, are assigned, "Big Sisters" who help newcomers get acquainted and involved in all the various activities. During the season, March through November we have a monthly meeting every first Thursday immediately after that day's play. We host invitationals with other clubs in the area and guest day each year where members entertain special friends for golf, lunch, and prizes.

LINE DANCE CLUB: We meet every Monday Morning from 10:30 -11:30AM and charge each participant a nominal fee for each class. Dancing for exercise to country music, swing music, and occasionally Latin music is our focus. Laughter and socializing is part of our club as we enjoy dancing sans partners. The class accommodates beginners as well as intermediate and advanced dancers. Come join us and find out how much fun exercise can be when you dance.
MAH JONGG This group meets the second and fourth Tuesdays and every Friday at 1:00 PM. We welcome experienced players and are happy to teach beginners how to play.
Join us for an afternoon playing this ancient Chinese game.
NEEDLECRAFTERS AND QUILTERS: We are a congenial group who bring encouragement, motivation and sometimes comic relief along with varied personal projects every week. Occasionally we work together on charitable efforts benefiting local needy families. Join us any Thursday afternoon from 12:30-4:00 PM in the Arts and Crafts Room and bring along your work in progress.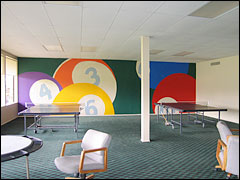 PING PONG: .The Ping Pong tables are available in the game room for all Summerfield residents. Organized play for men and women is on Monday, Wednesday, and Friday from10:00 to 12 noon. There is no cost.
SOCIAL DANCE CLUB: Meet a friendly, fun loving group by coming to a dance at the Social Dance Club. Dances are held four times a year in April, June, September and New Year's Eve. Live music is provided by the John Bennett Combo. Summerfield residents may attend as guests and pay an extra fee or become annual members and pay a reduced fee for events.
TENNIS: The tennis courts are available to all Summerfield residents. Your key Will fit the lock on the gate and give you access to the courts. Organized play for men is Tuesday and Thursday from 9:00-10:30AM, for women is Wednesday and Saturday from 9:00-10:00 AM, and for mixed play is Monday and Friday from 9:00-10:30 AM. All levels are welcome, come and join the fun.
TRAVEL CLUB: If you are looking for a congenial group of people with which to attend a concert, hike along a scenic trail, travel to Pacific Northwest destinations For several days of sightseeing, or take a cruise to faraway place, the Travel Club is for you. The purpose of the club is to locate vendors that meet the needs of the membership and promote these travel experiences. For people holding season tickets to the Pops Concerts on Saturday nights, the Travel Club arranges for bus transportation from the clubhouse. We also offer Bingo for members on the second and fourth Friday evenings at the clubhouse. Other social events sponsored by the club include a Travel Faire in May for agents to tout their trips, and two social occasions, a July 4th picnic and a Holiday Party in December.
Click Here to Share This With a Friend